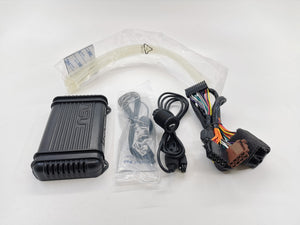 Looking for a way to add Bluetooth to an older vehicle, without changing to a modern headunit that looks out of place? 
All for under £30?
Our Bluetooth kit is a simple solution, which integrates with the stereo system, using an ISO T harness. 
For vehicles without ISO connections, the supplied T harness can be very easily modified and wired in.
Key Features:-
Factory Installed Sound Quality and Appearance
    Original equipment appearance
    Audio through vehicle speakers
    Directional Microphone
    Single switch control
Standard Functionality
    Audio streaming - A2DP
    Supports voice dialling
    Auto system mute - incoming call
    Automatic phone link up upon ignition on
    Works with up to 5 Bluetooth® mobile phones
Sound Quality
    Full duplex
    Digital signal processing
    Echo cancellation
    Noise reduction
Single button functionality
    Answer call
    Disconnect call
    Voice dialling
    Redial last number
    Volume adjustment
    Call rejection
    Private call - transfer to headset
    Disable Bluetooth® connection
    Pairing memory erase