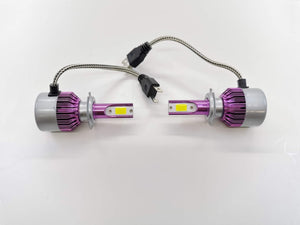 Our popular Headlight/Foglight bulb, just in a purple anodised finish.

These work exactly the same as our standard range, just in a finish we dont usually stock, limited quantity available.

2 Cob chips situated to represent where a filament would be in a standard bulb, reducing "light scatter" when placed in reflector housings, although they really do shine when in projector housings!
Priced per pair
Some vehicles may require bulb adapters or canbus decoders,
We can assist and advise fitments but suitability and safety are responsibility of the owner